Our Holiday Clubs are well known for being a fun and safe place for the children who attend.
Open from 7.30am to 6.00pm for children aged 3 to 11 years, we provide a variety of sessions to meet your needs.
Session Times

All Day

School Day

7.30am Early

Drop Off

Morning

Afternoon

7.30 - 6.00
8.45 - 3.30
7.30 - 3.30
8.00 - 1.00
1.00 - 6.00
Coppice Holiday Club offer a wide range of themed activities daily to keep your child(ren) entertained no matter what their age.
An example of our Summer Holiday Club events
Holiday Club Events
We have listed below the main activity of the day, but everyday there will be a range of activities, resources and toys for everyone to enjoy both indoors and outdoors. Club does have an Xbox and computer for children to access, but children are welcome to bring their DS and other handheld devices, although every care will be taken these are bought at your own risk. Children are welcome to bring: Scooters and bikes (helmets A MUST for bikes for safety).
All outside sourced activities are subject to weather conditions. Alternative activities will be provided if we cannot go outside.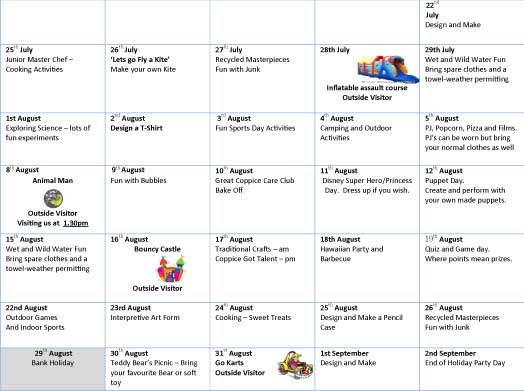 In addition, there are plenty of other activities and resources for children to choose from each day including: -
Arts and Crafts
Cooking
Board Games
Quiz
Book Corner
Small World Toys
Football and other sports
Games Consoles (monitored and software appropriate to age)
....... To name but a few of the fun things on offer